GIVI was born from a passion for motorcycle racing and a desire to achieve excellence. The founder Giuseppe Visenzi was a professional racer himself, winning the silver medal in the World Championship in 1969. Today, GIVI shares its passion for racing through the sponsorship of riders in almost every specialty, from the MotoGP track to the off-road terrain of Enduro and Rally competitions.
TEAM LCR HONDA - MOTO GP
LCR Honda - Cal Crutchlow

GIVI's partnership with Lucio Cecchinello's team spans more than 20 years. During that time, they have celebrated the victories of many great riders, such as De Angelis, De Puniet, Locatelli, Checa, Stoner, and Bradl to name a few. In 2021, GIVI is proud to support Alex Marquez and Takaaki Nakagami as they don the brand logo and take to the MotoGP track.
TEAM DUCATI - MOTO GP
Ducati - Danilo Petrucci

Since 2016, GIVI's also been a proud supporter of the Ducati team. In 2020, GIVI-sponsored riders Andrea Dovizioso and Danilo Petrucci led the DUCATI team to win the title of MotoGP Constructors World Champion. In 2021, the GIVI logo will again be proudly displayed on the Desmosedici GP bikes, this time ridden by Francesco Bagnaia and Jack Miller.
TEAM KAWASAKI PUCCETTI
Javier Fores

GIVI has shown its enthusiasm for the Superbike and Supersport world by proudly partnering with Manuel Puccetti's team since 2017. In 2020, Supersport riders Lucas Mahias and Philipp Oettl helped lead Puccetti Racing to win the title of best team performance. Xavi Fores joined the team in the World Super Bike category and is expected to bring a strong performance in 2021.
TEAM HRC MONSTER ENERGY
Team HCR - Ricky Brabec

GIVI's partnership with Honda also extends off the track to the HRC Monster Energy rally team. Honda's proven to be a strong competitor in off-road, with Ricky Brabec winning both the Dakar Rally and the Sonora Rally in 2020. The Honda Monster Energy team claimed gold again in the Dakar Rally in 2021; this time with Kevin Benavides finishing first and Ricky Brabec following closely behind in second.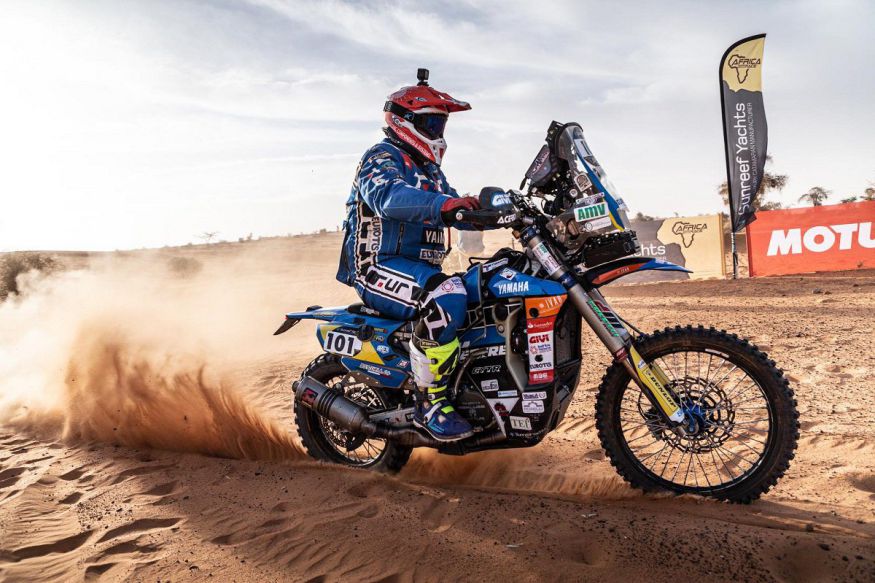 ALESSANDRO BOTTURI
Alessandro Botturi

Alessandro Botturi is a true champion, having won a number of titles during his career. His first victory dates back to 1998, while most recently he claimed first in the 2020 Africa EcoRace. Not only does Botturi proudly wear the GIVI brand logo into each competition, but you can also see him perform riding tests of GIVI bags and accessories, and his frequent visits to the company have made him part of the family.
GIACOMO REDONDI
Giacomo Redondi

Born in Italy in 1993, Giacomo Redondi quickly rose to prominence in the Italian motorcycle scene, and has since gained worldwide recognition as a three-time winner of the World Off Road Championship Series (WORCS). GIVI has a privileged relationship with the rider and sponsors him directly. When he's not competing, you can find Redondi giving his support to the GIVI R&D department and starring in our product test videos.